Prophylaxis: Health for teeth and gums
Preventive measures to maintain healthy teeth and promote the health process of diseased teeth or gums are called prophylaxis. If carried out regularly, you can prevent dental diseases or tooth replacement, promote the long-term health of your teeth, and reduce headaches, back pain, muscle tension, and other issues.
How much prophylaxis is necessary?
Our professionally trained assistants carefully assess how often a prophylaxis treatment should be carried out. The schedule depends on various factors, such as previous damage or any prosthetic treatment (dentures). Our recall system always reminds you of your next appointment in time.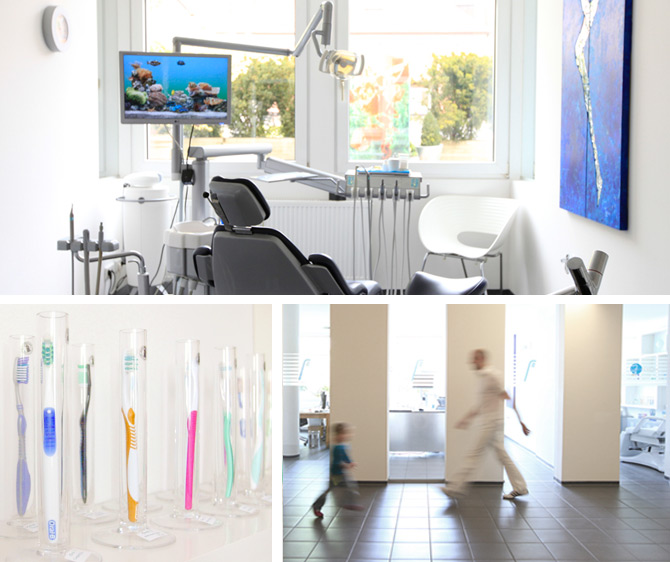 What does a prophylaxis session in our independent department look like?
Our practice has an independent prophylaxis department with four trained prophylaxis assistants that carry out the treatment competently and sensitively. Professional treatment is a vital part of optimal oral hygiene to reach areas that cannot be sufficiently cleaned by daily tooth brushing alone and to maintain healthy teeth. In addition, all tools you will need in order to be well equipped for the optimal care of your teeth at home can be purchased in an affiliated shop.
First, we thoroughly remove any tartar and dental plaque from your teeth with an air-flow device. Any roughness on the surface of the teeth is removed by a thorough polishing. Finally, the interdental spaces are cleaned. Another important point of a prophylaxis session involves instructing our patients on which tooth brushing technique and which prophylaxis items they should use for optimal tooth cleaning at home.
Prophylaxis is the basis for beautiful and healthy teeth - especially for children!
For children, prophylaxis is carried out by first staining the teeth with a special solution so teeth that have not been brushed carefully enough can be identified more easily. Then the teeth are professionally cleaned and locally fluoridated.
Our current information brochure and price list are available as a PDF file. Please click on the f
lyer
: